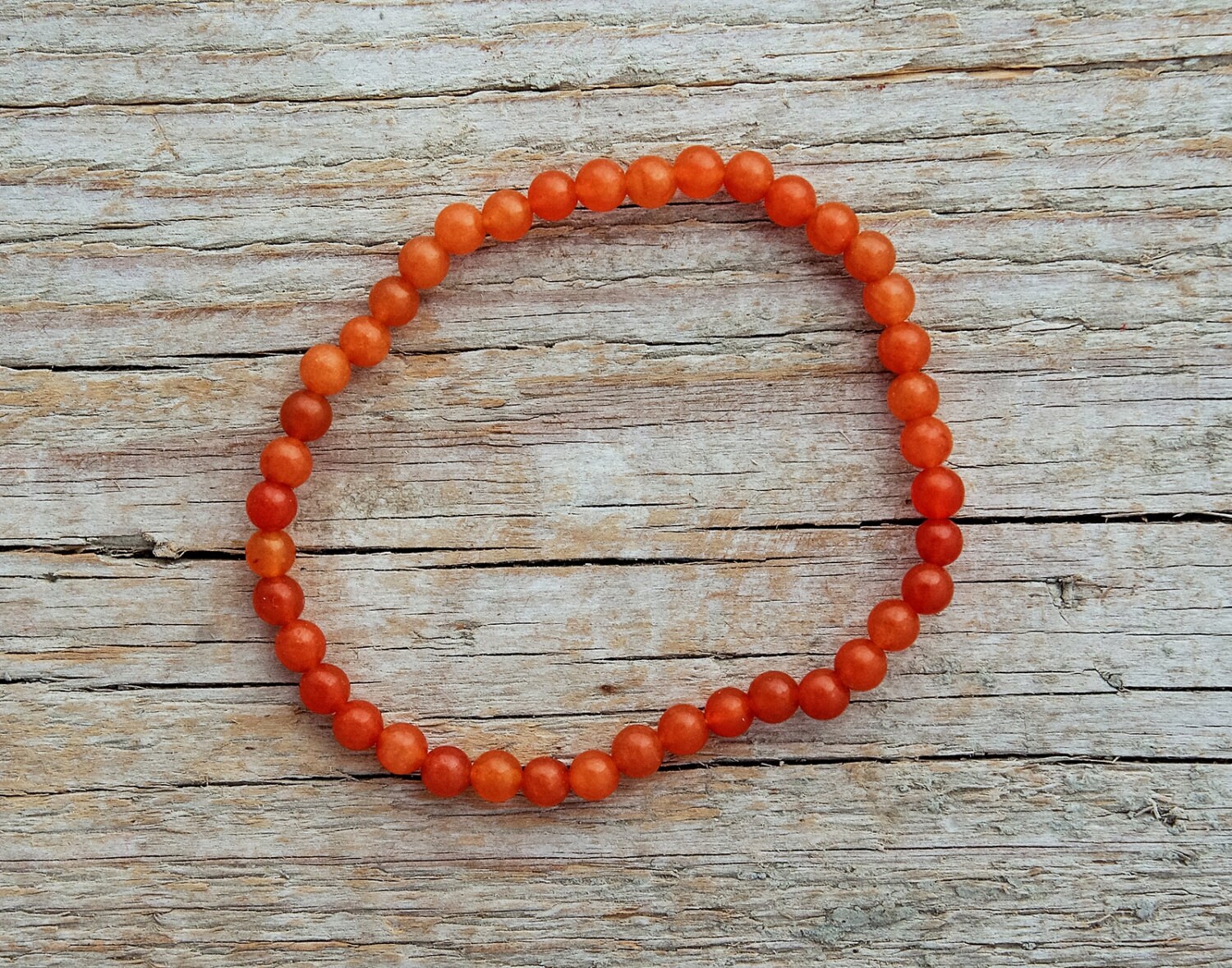 Carnelian imparts a veritable zest for life, imparting a positive, revitalizing energy. It gives courage, promotes positive life- choices, dispels apathy, and motivates for success. It increases sensuality and heightens one's capacity for pleasure. Emotionally, Carnelian is a powerful protector against anger, envy or resentment, yours or other people's. It banishes negativity, replacing it with love of life.
Like the unexpected fire of a sunset, or the first flash of autumn brilliance, Carnelian captivates. Its bold energy brings a rush of warmth and joy that lingers, stimulating and empowering. Known as a stone of motivation and endurance, leadership and courage, Carnelians have protected and inspired throughout history.
A glassy, translucent stone, Carnelian is an orange-colored variety of Chalcedony, a mineral of the Quartz family. Its color varies from pale pinkish-orange to a deep rusty brown, though it is most known for its brilliant orange and red-orange crystals. Its name comes from a Latin word meaning "flesh."
In antiquity, as well as today, Carnelian is believed to help timid speakers become both eloquent and bold. Ancient Warriors wore Carnelian around their neck for courage and physical power to conquer their enemies. In Egypt it was worn by master architects to show their rank of builder, and alchemists of the Middle Ages used it as a boiling stone to activate the energy of other Chalcedonies. As the first stone in the breastplate of the High Priest, it signified the blood of the martyrs and was once believed to prevent illness and the Plague.
Orange stones, especially the carnelians, are excellent aids for training, coordination of physical exercise programs, and for balancing body energy levels. Carnelians boost a listless attitude and can stimulate the appetite. Used as a professional support crystal, Carnelian aids architects, builders and construction workers in their creation of master buildings, stimulates power and stamina in athletes and military personnel, establishes form and organization in journalists, and stimulates motivation in salespersons.
Carnelian is said to attract prosperity, new resources and good luck. It is a talisman for success in any money-making venture. In the workplace, it is a crystal of ambition, drive and determination, and wards off undue pressures of co-workers or impersonal corporations with unrealistic expectations.